This post is part of a series connected to the podcast Shift Your Paradigm: from school-centered to learner-centered. My colleague, Randy Ziegenfuss, and I will be sharing our learning and thinking along the way and cross-posting to the Shift Your Paradigm site.
Lynn Fuini-Hetten and Randy Ziegenfuss, Ed.D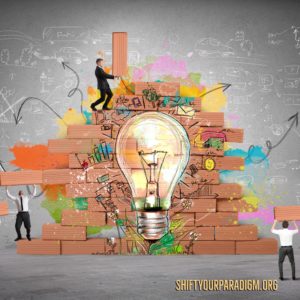 In Episode 7, we had a conversation with Carrie Bakken, Program Coordinator and teacher at Avalon School in St. Paul, Minnesota, and Riley Molitor an 11th grader at Avalon. Avalon School is a project-based learning environment.
Key Competency
Avalon School develops learner agency in both learners and teachers. Carrie said, "All students have these really incredible gifts in some areas, and things they are working on in others. Everybody is on their own plan."  Learners are encouraged to learn about themselves as learners, and then design the work they want to complete throughout their education. While learners complete this work, teachers are learning alongside them.
Key Takeaways
Avalon engages learners in the teaching and learning process from start to finish. At Avalon, all of the work is tailored to the students' interests by the students, demonstrating a commitment to learner agency. Students examine standards and determine how they will meet them. For example, students might design a project, take a class, or read a book. In our conversation, Riley shared some of the projects she developed. "Everybody's experience is unique at Avalon,." she shared.  Learners identify the standards, set goals for the standards, and evaluate their work. In addition, learners write a reflective narrative about their work and the process they engaged in to complete it. Through the completion of these projects, Riley learned about herself as a learner. She learned she is more of a "doing" learner.
Sometimes the learners are actually harder when assessing themselves than when the teachers lead the assessment process. Riley identified that self-assessment can be "kind of difficult".  While some of the components of the assessment are what we might typically expect (on time, readable, proper grammar, etc), others require more thought and consideration about what the student has completed and how he/she has completed it. Learners also reflect on the question, "How will this impact your next project?"
Different from many other learning environments, Avalon is run collaboratively. There is no principal, and teachers' roles evolve over time. The teachers are operating with agency and autonomy as they are both leaders and learners. Learners also have the autonomy to create programs, clubs, and internships. Through Avalon Congress, the learners develop rules for the school and operate as the legislative branch; the teachers are the executive branch; and the peer mediators are the judicial branch. The community shares the leadership across the organization.
Other competencies learner-centered learners need: (1) ability to collaborate with learners and teachers;, (2) curiosity, (3) being able to ask for and accept help, (4) manage time and distraction; (5) talk to community members and network outside the Avalon School.
It is expected teachers will  learn from the school's learners. For example, Carrie indicated as a history teacher, she learned how to put together a computer! It is important that teachers be comfortable with not knowing everything, and be willing to ask questions. Teacher retention at Avalon is 95%. Carrie attributes this to the fact that teachers always have the opportunity to learn something new!  
Avalon is aware that it needs to fit into the framework for meeting the expectations of higher education, and students do receive a transcript. Additionally, learners are graded and complete state-mandated standardized tests.  
Connections to Practice
Every person in the organization is a learner in the learner-centered environment.  Teachers model this through their daily interactions with learners.

This conversation shows that learners need to be involved in planning, implementing, and assessing their learning. Reflecting on the process of completing the work is as important as doing the work!

A learner-centered environment creates relationships within and across the organization. In addition, learners need to develop the knowledge and skills to connect with community members. Through an advisory model, the Avalon teachers loop and advise learners for the years in which they attend the school. Working with the same learners each year helps teachers develop strong relationships with the learners and their families?  

Teachers need to be empowered to create experiences for learners and differentiate.  Providing autonomy to teachers keeps teachers fresh and motivated to learn.

Leadership needs to be shared between leaders, teachers, and learners. Creating structures for these opportunities develops a stronger learning community.
Questions Based on Our Context
Do our teachers and leaders model the way as learners?

What opportunities do our students have to network outside of school? Are they developing the skills to communicate and collaborate with community members?

How do our students tailor projects to their passions?

How do we engage student voice to the level of the Avalon Congress?

How do we develop more agency in our teachers?  What knowledge, skills, and dispositions do our teachers need to develop?
Next Steps for Us
Look at aspects of the organization through the lens of learner agency. And ask the questions outlined above.

Identify strategies for engaging learner voice.

Develop action plans to increase opportunities for real-world projects connected to learner passions.