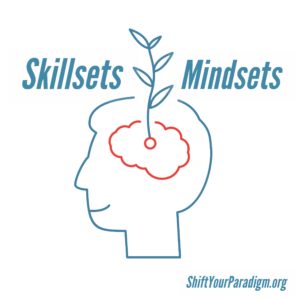 This post is part of a series connected to the podcast Shift Your Paradigm: from school-centered to learner-centered. My colleague, Randy Ziegenfuss, and I will be sharing our learning and thinking along the way and cross-posting to the Shift Your Paradigm site.
Lynn Fuini-Hetten and Randy Ziegenfuss, Ed.D
In Episode 6, we had a conversation about competency-based learning with two leaders and a learner from Regional School Unit 2 (RSU 2) in Maine –  Bill Zima, Superintendent; Mark Tinkham, principal; Bryce Bragdon, learner.
Key Competency
In Episode 2, Allan Cohen describes transformation as a letting go of the past and creation of something entirely new -breaking from what has been done, not just improving it. In RSU 2, the leadership team has provided the space for teachers and learners to thrive in a competency-based system where diplomas are awarded based on proficiency. They've done this through a focus on building the mindsets and skillets of all stakeholders.
Bill suggests the role of leadership in this transformation: "My job is to set the right conditions in the right context. As superintendent, I'm trying to set conditions so the principals can work with the teachers to create what needs to happen inside the building." Learner-centered leaders build mindsets and skillsets in ways that model the expectation for learning in the classroom. Bill later shared the "right conditions" include resources (budget, professional development time and structure) and mindset (supporting innovation and dialog, embracing a rigid philosophy but flexible thought).
Key Takeaways
Teachers and leaders in RSU 2 believe it is important to teach learners how to take advantage of a proficiency-based system. Learners are in contol of the pace of their learning – they can move faster or slower than their classmates. Learners have a tremendous amount of choice and voice. The capstone project was shared as an example of high quality learning in this competency-based system.
In RSU 2, all teachers and leaders are focused on cultivating hope in learners. Agency is defined as "the perceived ability of the individual based upon their capacity to shape their own future." "Perceived ability" is the mindset. "Based upon their capacity," is the skillset. RSU 2 believes in building both the mindset and skillset of every learner so they ultimately have the capacity (agency) to do whatever they hope to do. Students feel confident as learners because they have cultivated agency supported by strong mindsets and skillsets.
The biggest challenge for teachers is letting go of control. Teachers are no longer the sages on the stage, but rather facilitators, supporting students to build hope, deep thinking and agency connected to their passions.
RSU 2 supports teachers in shifting to the "letting go" mindset by providing proficiency-based professional development. Strong mentoring for teachers new to RSU 2 is also provided. Professional learning models learning throughout the system.
Another challenge shared by the leaders of RSU2 was shifting the mindset of parents. It's important to meet parents where they are. Parent groups provide the opportunity to re-induct parents into the mindset. Parents begin to see proficiency-based learning as more constructive than the traditional model.
Connections to Practice
Agency is such a keystone in transformation. Who owns the control? Once again, we hear from our friends at RSU 2 that giving up that control to the learner is one of the greatest challenges. We wonder how much agency we are giving to our learners and our principals.

Many aspects of our professional development are proficiency-based. Certainly, they reflect the learning beliefs in many ways. Teachers and leaders provide feedback that supports this kind of design for professional learning.

From a leadership perspective, we feel we model the kind of learning we want to see in the classroom – active, engaged.
Questions Based on Our Context
How do we intentionally focus on agency as a key lever of transformation? What happens when learners and leaders resist agency? How do we overcome that?

What are our mindsets?  How do we need to help build the mindset for powerful, deep learning experiences in teachers?
How often do our teachers confer with individuals or small groups? Or is most of the instruction whole group?

While our professional learning models good learning practices, does it provide the opportunity for learners to embrace agency? To what level are they ready to do so?  How does our professional learning build and re-shape mindsets?

How do we create the conditions for more agency among our leaders?
Next Steps for Us
Engage in conversations about agency with the leadership team.

During monthly principal meetings, participate in walk-throughs where the conversation centers on the learning beliefs and the idea of agency. How does the conversation during the walk-throughs model and highlight the kinds of learning we would like to see in the classroom?

Engage in conversations about agency and mindsets with teachers, leaders and learners.