This post is part of a series connected to the podcast Shift Your Paradigm: from school-centered to learner-centered. My colleague, Randy Ziegenfuss, and I will be sharing our learning and thinking along the way and cross-posting to the Shift Your Paradigm site.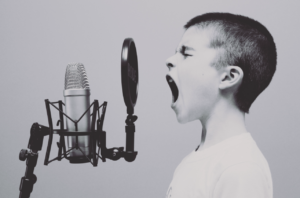 In this episode, we learned about Nautilus School with leader Milissa McClaire Gary and a young learner Andrew (AJ) from the Nautilus school located in Chicago.
Key Competency
Learner-centered leaders are open and responsive to feedback.
Takeaways
When asked what teaching and learning looks like in Nautilus School, Milissa shared there was significant collaboration to get their learning space ready for the learners. The curriculum, activities, and experiences are designed to meet what learners need academically and socially.
AJ described his day which begins with morning meeting and Daily 5. He participates in yoga twice a week, STEM challenges, geometry, enjoys recess and lunch in the dining room. and ends the day with wrap-up. AJ shared he has been learning about electric cars and will share what he has learned through an Animoto video at the school's portfolio night.
Milissa was working with teacher teams in Chicago Public Schools, and worked to bring Nautilus to life. Through the work, observing classrooms and reviewing neuroscience research (including executive functions and mindfulness), Melissa determined the need to create a new school since current systems are not set up to support the most effective kind of learning and success. After planning with other community members, the school opened its doors in September 2018.
What is portfolio night?  Students developed two individual goals and learner-centered projects in the first couple of weeks of the trimester. The learners access their  neighborhood library and online classroom resources for their research. Portfolio Night is similar to parent conferences or report card pickup.
There are no letter grades at Nautilus, but there is a language that has been developed to indicate how the students are progressing towards their goals. Students then review their self-selected work in their portfolio. They present their videos also.
By the end of the year, the school hopes the students will be running their own conferences. To do this, Nautilus staff are working with learners on speaking and articulating their learning for parents.
The school is working to release agency in its learners. Students set goals for learning during morning meeting every day. Students use set processes to review their progress. Even on the parts of the day which are more free choice or play-based, learners determine what options work well in their space.  Learners complete self-checks and monitor how they are doing. Learners also use a free choice calendar, which was designed by the learners.
Nautilus is digging into open-walled experiences and shifting to a more learner-centered environment. They are currently thinking about assessment and how it will evolve. They are determining how they and the learners can articulate what they are learning.
Helping parents see school differently is important as Nautilus seeks to increase the number of students attending the school. Community members and parents are generating a buzz on social media. Word of mouth is spreading.
You cannot do this work by yourself; it has to be a collaborative effort. As a leader, Milissa does not hold all the responsibility of developing the school and generating all of the ideas. She uses her coaching background to engage the whole team in reflection while she learns alongside others. Leaders need to constantly have the eyes open for what lessons they are learning on a daily basis.
AJ reflects that Nautilus is a friendly time and place for kids to learn. He appreciates they have a class pet, a lemonade stand, yoga, and working with the teacher on Daily 5.  Some of the work is also different from his previous school. He notices there are fewer worksheets and more choice in his learning. AJ reflects on his learner-centered goal. He wants to learn more about electric cars, and has created an Animoto. AJ brainstormed about next goals, and pondered about learning more about his friends.
What advice do you have for learner-centered leaders? It is really important to partner with parents and  know kids deeply.
Connections to our Practice
We have done several surveys to seek input from learners, teachers, leaders, and parents.
We have elementary learners creating student-led conferences as an outcome of our Leader in Me process.
We struggle with deep parent engagement.
Questions Based on Our Practice
Do we know our learners deeply?
Are we open and responsive to feedback?
What is our attitude towards feedback? Do we seek it out, or do we only accept it when we receive it?
Next Steps for Us
Talk with leadership team about venues for feedback. How can we truly partner with parents?