This post is part of a series connected to the podcast Shift Your Paradigm: from school-centered to learner-centered. My colleague, Randy Ziegenfuss, and I will be sharing our learning and thinking along the way and cross-posting to the Shift Your Paradigm site.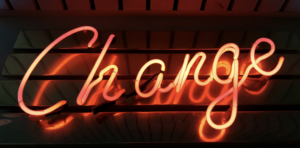 In Episode 44 we spoke with Dr. Cory Steiner, superintendent in the Northern Cass School District in North Dakota. We learned about the audacious goals and vision, driven by their Profile of a Graduate, that are focused on creating a learner-centered school district. Northern Cass School District is a public school district located in Hunter, ND. It has 635 learners in grades PK-12 with a student-teacher ratio of 15 to 1.
Takeaways
Northern Cass has adopted audacious goals – including moving to a competency-based model by 2020. They offer big school opportunties in their small school system of 635 learners. They took  6-8 months to work with educators and learners on a 3-year transition which will eliminate grade levels, offer credit for learning beyond the day,  rethinking grading, and making sure kids move at a pace which works best for them.
Significant planning is in process to make this happen. They started several years ago with the Teacher Leadership Academy. Professional learning is a key compenent in this work. The District partnered with a local university to provide a masters degree aligned to the District's vision. Administrators partnered with professors to teach courses related to District content. The school considered a school within a school model, but decided they wanted to do more for all learners.
Community engagement has been critical – using a personalized learning team (including learners) and a parent group. Engaging parents and community members in conversations around potential concerns (transcripts, credits, etc.) has helped build the vision and understanding while addressing various pieces.
Northern Cass recently developed a Portrait of a Graduate to guide this work- identifying eight areas (collaboration, communication, critical thinking, leadership, growth mindset, organization, accountability, and self-reflection.)  Every conversation focuses on how the work will support students being choice-ready to leave their school with the discreet skills and dispositions. Next year, the school will use the first 10 days at elementary and 6 days at the secondary level to directly teach the skills through activities designed to help students better understand the skills and ideas in the Portrait of a Graduate.  The POG is the guided pathway to getting to personalized learning.
Along the way, there have been high points and challenges. Cory shared about his Jaguar Academy – a school within a school – and how it really focused on pace.  Students quickly completed required courses and then moved to passion courses and internships. He reflected his kids are ready to own their own learning, and sometimes the adults need to get out of the way.  
The majority of the staff has embraced the idea of learner-centered, and believes they are doing the right things for their learners. Learner-centered is what is right, even though it is a heavy, heavy lift. Some educators have struggled with this change because the school district has to build its own system.  At times, there is stress because you have to build the system as you go and you don't know what it will look like until you start doing it.  Also, there is always more work to do… revamp the curriculum, build in a learning management system, etc.  
Cory reflected on site visits to gain new ideas. While visiting and viewing these other learning environments, the educators could see what is possible. He knows Northern Cass' learners are as capable as all other learners. He realized that the district has not given ownership to the learners. He realizes they have to do a better job of teaching the skills to the learners. While they have learned significantly from other districts such as Lindsay Unified and Harrisburg, Northern Cass has had to design its own original system.  Everyone's context is different.  
Agency is at the core of this work. What does it look like in Northern Cass? How have the adults embraced the agency? Cory shared the teachers need to give up their control and know that it is going "to be ok."  Controls such as tests, retests, etc. can be given up, and it will still be ok. Teachers are starting to let go some of those controls.
How have you as a superintendent reshaped the control? Cory has full trust that the people in the district will do what is right for their learners. He knows his staff truly care about the learners. The educators want their learners to have their best day every day. He trusts that teachers will work at a pace that works best for them. When teachers are not doing what it is needed, they may need more resources or time. Additionally, he has had to rethink his role in professional learning, reflecting on the best way to involve his own voice. Using teacher leaders for direct instruction on programs/initiatives and allowing time for professional conversation is often more important than leading the professional development.
Leaders need to be empathetic. We need to honor the work that our teachers do, and celebrate our successes. Leaders also need to focus on their why. What is your why and how does it drive your work every day and in every conversation? The why needs to become more than the a mission or vision.
Leaders need to find a medium area to let their runners run, and ensure every one makes an effort.
Leaders also need to be willing to fail. If you are going to try to do this work, you have to be willing to take the risks to do what is right for kids.  Don't make excuses for doing what is right for kids.  People who are struggling in this system are people who don't live in this system.
What advice would you give?  Stop waiting for things to be perfect before you start. Be willing to take small steps instead of waiting. Leaders also need to find a way to give up the excuse of not being able to afford it. Provide opportunities for teachers to see other people doing the work. When teachers believe it, they will do it. Let your runners go, and figure out what you need to do to support everybody else. The change permeates the whole system – teachers, leaders, clerical support, and parents.
To flip the system, we need to create agency throughout the entire system. Sometimes we may feel personal frustration, and we have to slow down and be empathetic. Trust and empathy are critical throughout the change process.  When we feel stress, it is important to have the conversation, be vulnerable and empathetic, and seek solutions.
Connections to our Practice
We have worked to build our Profile of a Graduate and learning beliefs.
We have provided two years to build a shared understanding – with runners and teachers who need more time.
We have developed a school-within-a-school model in our middle school.
Questions Based on Our Practice
Does everyone understand our why statement?
How do we surface parent concerns?
How do we create action groups which include diverse stakeholders including learners?
Do our adults have agency?
Are our adults able and willing to give up control?
How can we better understand how others feel?
Next Steps for Us
Talk with leadership team about venues for feedback. How can we truly partner with parents?
How can we organize some more site visits?